Back
A COVID-19 diagnostic platform
In less than three weeks, the ULB network has created a platform dedicated to diagnosing COVID-19. It is present on the Erasme campus and on the BioPark, and can conduct 500 manual tests each day.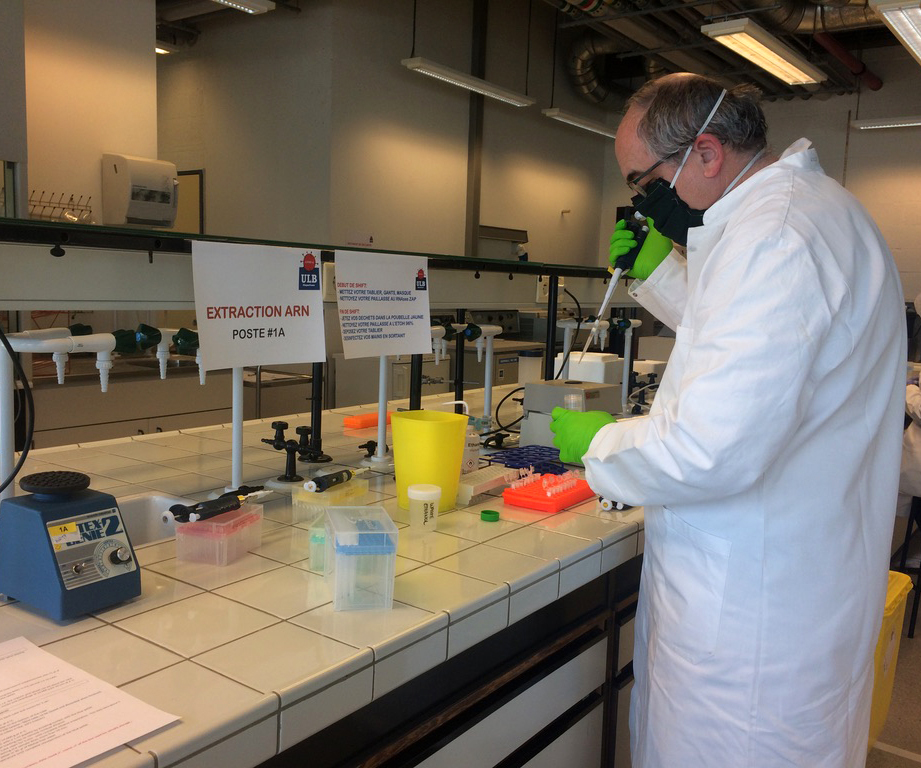 On March 17, Belgium's health authorities (1) asked ULB's researchers in molecular biology to set up a diagnostic platform for COVID-19. The first tests were conducted on April 6. 'This was made possible thanks to an incredible outpouring of solidarity from our staff, and to the full support of all parties involved', comments professor Stanislas Goriely, one of the platform's coordinators. 'In total, around fifty researchers and research assistants helped set up the platform, and 150 members of the community volunteered as test subjects.'
Who is tested?
In order to function in the long run without wearing out the teams involved, the platform is operating with a staff of around fifteen volunteers, divided between the Erasme campus and the BioPark. 'Each "technologist" analyses forty samples each day', continues Prof. Goriely. 'The Erasme site processes samples received from clinical biology laboratories across Brussels, while researchers at the BioPark analyse samples received from the Charleroi university hospital and its partner organizations (2). Once the tests are complete, we send the results back and they are interpreted by medical biologists.'
An old technique updated by UNamur
In order to increase testing capacity, volunteers from ULB's COVID-19 diagnostic platform have also gone to laboratories in partner hospitals to teach their method, an old technique that UNamur's virologists adapted to COVID-19 in early March. 'It is a three-step technique', explains Prof. Goriely. 'First, the virus is inactivated. Second, its RNA is manually extracted. Third, a genetic analysis using PCR is carried out in order to amplify the RNA. This allows us to detect even tiny quantities of the virus.'
Pros and cons of the technique
This test's high sensitivity is both its strength and its weakness. A risk of contaminating the sample exists at every step of the process. This is why it is important to have qualified staff members who can carry out the tests in strict compliance with applicable standards. The main advantage of the technique is that it does not require certain reagents that face a risk of shortage, or machines that are not always available. However, testing capacity is limited by the personnel available. 'Our platform is a temporary solution, that provides support to the clinical labs for diagnosis and screening', concludes Prof. Goriely. 'In addition, it creates a de facto multidisciplinary and multicentric network around COVID-19 while also giving us access to samples. This, in turn, will enable us to quickly launch several research projects related to this new virus.'
Notes:
The request was made by the National Reference Centre on the Coronavirus and the Federal Agency for Medicines and Health Products.
Agreements were signed with each partner hospital.